Permanent Anchored Soldier Pile Wall

NEWBERRY HILL ROAD
KITSAP, WA



Kitsap County proposed an Owner-Design cantilevered secant pile shoring wall, roughly 30-ft high and 1200-ft long, to retain cuts created by widening into an adjacent 65-ft high slope along Newberry Hill Road located in Kitsap County, Washington.
After winning the bid for the Owner-Design shoring wall, the Design-Build team comprised of Ground Support PLLC and Malcolm Drilling Company Inc. presented a cost reduction incentive proposal (CRIP) to Kitsap County that saved over $500,000 compared to the Owner-design.
The CRIP was comprised of a 25,000 ft2 permanent anchored soldier pile wall, with permanent encapsulated ground anchors, permanent wide-flange soldier beams encased in lean-mix concrete, temporary timber lagging, and a bottom-up full-height 8-inch thick permanent shotcrete facing attached to the beams with headed studs.
The design utilized recent state-of-the-art FHWA earth pressure design diagrams, and displacement-based seismic design procedures in order to reduce the cost of the shoring. In addition, a relatively aggressive design anchor pullout resistance of 5 kips per foot was used to reduce the anchor lengths and keep them within the relatively narrow right-of-way.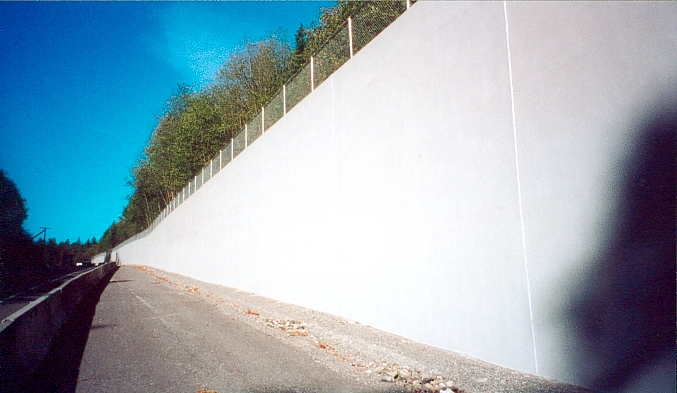 View along length of wall.





Closer view of wall.